Dear Suzuki Strings of Madison and Madison Cello Ensemble families,
It is with great pleasure that I welcome you and your family and friends to participate in the first SSM Musical Field Trip of the year.
Tuesday April 18 at 7:30 pm the 
Danish String Quartet is performing at the Union Theater – Shannon Hall .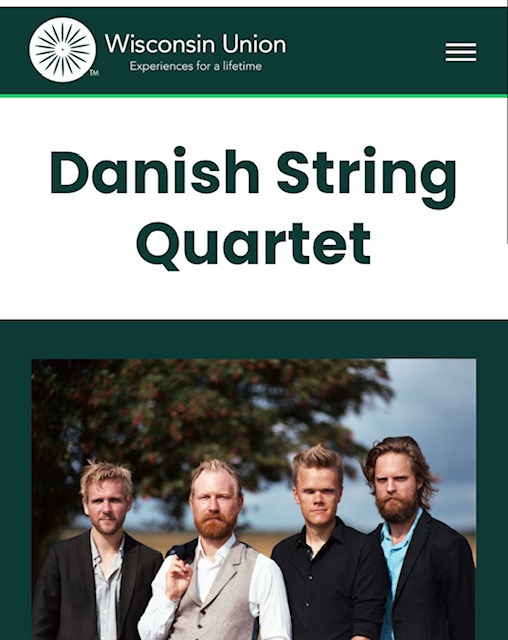 I have secured a special rate of $ 10.00 per ticket – adult and youth is same price .
Our tickets will be in the balcony . My goal is to fill the balcony with our  students, families , friends and supporters of SSM/ MCE. That's 360 seats !!! Thinking big:)
Only group classes meeting that day are:
4:30 pre- twinkle movement
5:00 Janse's Pre-twinkle violin, Kathy's Early book 1 violin, Pre-twinkle Cello and Early Book 1 Cello
We will not hold any other group classes that night . Please set aside this evening to hear some fabulous music .
The DSQ will thrill us with traditional Danish quartets in addition to the Haydn and Shostakovich they have planned.
Please turn this into a fun event – join your Suzuki pals at the Union for an early dinner or ice cream and then go to the concert .
Here is the link for ticket pre- order
March 1 I will close this group offering and place our large order.
Don't delay !!!
Distribution of tickets will happen then later in March for the April 18 concert .
I'm so excited for this concert 🎵
With a twinkling spirit ,
Diana