About Suzuki Strings of Madison
Suzuki Strings Madison's mission is to provide Madison area children with the opportunity to flourish musically using the philosophy of Shinichi Suzuki. This Japanese pedagogue believed that every child can learn to play an instrument with loving encouragement, a rich musical environment and respectful cooperation between teacher, parent and student.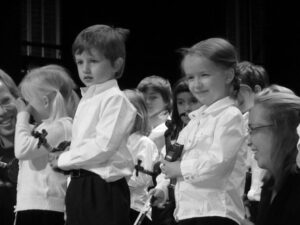 Since 1990, Suzuki Strings of Madison has provided children of all ages quality, comprehensive musical instruction through the violin. By helping to foster a positive environment and working relationship between the teacher, child, and parent, students learn the tools for success and well-being that last a life time.
Suzuki Strings of Madison offers children of all ages musical instruction on the violin, viola, and cello using the Suzuki method. After an initial observation period, students are assigned a teacher for weekly private lessons. Students also attend group classes once a week. In these classes children continue to develop their technique, learn solo performance skills, and practice ensemble skills by playing their instruments together. In addition, foundations for music reading are introduced through Dalcroze Eurythmics and continued in music theory and note reading classes.
Advancing students are offered orchestral and ensemble experiences. Opportunities for community outreach exist through our many public performances. We offer recitals, workshops, parent meetings and other social events which foster a positive learning environment for families and help students achieve individual, social and musical growth.
Suzuki Strings of Madison is dedicated to the development of ability in all children. We teach according to Shinichi Suzuki's philosophy that all children have the capacity to learn and develop high standards of achievement.
To this end, Suzuki Strings of Madison offers parents and students excellence in musical instruction in a caring, nurturing environment. Through private instruction, group classes, workshops, recitals and other activities, we aim to teach children not only the joy of music and music making, but also the life-long lessons of confidence, self-esteem, concentration, self-discipline, and sensitivity. Believing that music is an art form to be shared, Suzuki Strings of Madison brings the love and joy of music and children to the community through public performances.
Suzuki Strings of Madison provides its faculty with a stimulating environment of mutual respect where duties and ideas are shared, strengths are recognized and utilized, and individual growth and continuing education are valued.
Non-Discrimination Policy
Suzuki Strings of Madison admits students of any gender, religion, race, color, nationality, ethnic origin, or sexual orientation to all of the rights, privileges, programs and activities generally accorded or made available to students of the organization.  It does not discriminate on the basis of gender, religion, race, color, nationality, ethnic origin, or sexual orientation in administration of its educational policies, admissions policies, scholarship or loan programs, and other administered programs.